Ano novo "Cara" nova
19th Janeiro 2017
1030 visualizações
O ano em Itália arrancou com uma novidade em grande.
A Juventus achou por bem arrancar logo bem cedo com uma novidade para a sua massa de adeptos.
Trata-se da alteração de emblemas.
Esta alteração foi acompanhada e feita 100% em digital, ( claro que, não podia faltar a bonita da festa para alguns dos maiores nomes do clube) algo que muitos ficaram admirados com a surpresa criada:
Apresentação do Emblema em Live Stream

Juventus' objective is to grow in terms of presence and influence and to expand the business side of the club through a series of radically innovative initiatives, targeting both Bianconeri fans all over the world and those with less of an interest in football.

Black and White and More represents the start of a host of events relating to the Academy, immersive retail formats and a range of unique physical and digital products and services.

The transformation also encompasses a brand-new visual identity. The result of a bold, uncompromising approach, the new visual identity turns the sport's traditional style on its head and sets about blazing a new trail.

It is an iconic, simple design centred around sharp lines and will surely steal the spotlight no matter where it is used. The design brings to mind a famous line from Gianni Agnelli: "I get excited every time I see a word beginning with J in the papers."

"No club in Europe has so far been able to transcend sport and convey the philosophy behind that," explains Manfredi Ricca, Chief Strategy Officer for EMEA & LatAm at Interbrand, who teamed up with Juventus to develop the identity and concept of Black and White and More.

"If there is one club capable of taking that step, it's Juventus – the brand is synonymous with ambition and excellence and these are principles that can inspire truly unique experiences. The new visual identity has been designed to boldly take the club's spirit into new, unexpected realms."

The new identity will be applied to all of the brand's physical and digital effects from July 2017 and was unveiled by president Andrea Agnelli during this evening's event. Guests from the worlds of showbiz, fashion, sport and business – as well as the Juventus stars – were shown clips projected onto big screens and a dance show featuring spectacular light projections.

Three-time Oscar winner Giorgio Moroder gave a DJ set, while a performance from Oovee added to the spectacle of the evening. The event climaxed with the opening of another part of the building, where the new logo could be seen on the Bianconeri shirts and a range of objects featuring the new visual identity were on show.

Finally, the guests raised a toast with '1897 cocktails', created for the occasion by Tommaso Cecca, a mixologist at Cafè Trussardi at La Scala. A special edition of the Jeep Renegade was also created for the event.

As the guests moved through the rooms, each captivated, curious glance was like a brief glimpse into the future. Each step was a step into a new era. The Black and White and More era. 
Os dados são bem curiosos bem como toda a resposta do fanático pelo clube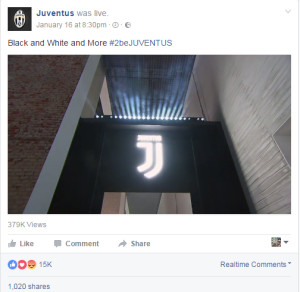 A resposta dos adeptos não tardou em chegar via Twitter…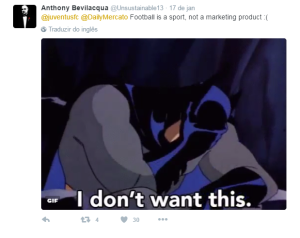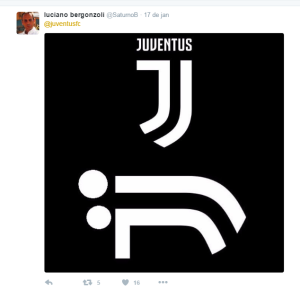 São estas as pequenas respostas de alguns adeptos que não gostaram nada da queda do Touro no emblema e muito menos a suposta evolução de logo…
Contudo, ainda é cedo para saber qual será o impacto em vendas e em re-branding da situação toda, a verdade é que a massa de adeptos não está totalmente de acordo com a alteração.. Resta saber se realmente os títulos serão a resposta para os adeptos… ou não…
E tu? O que achas do logo?